by Shaun Chamberlin on August 21st, 2016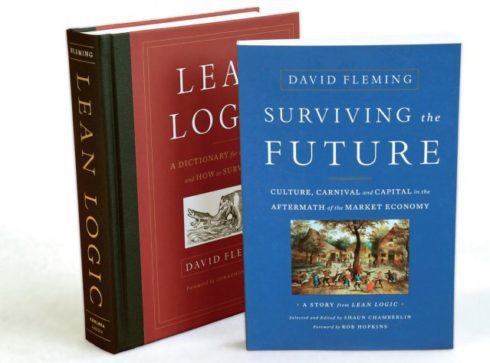 Last week the wonderful Brianne Goodspeed of Chelsea Green Publishing interviewed me on my late mentor David Fleming and the astonishing gift he left to the world.
His sudden death in 2010 left behind his great unpublished work—Lean Logic: A Dictionary for the Future and How to Survive It—a masterpiece more than thirty years in the making.
In it, Fleming examines the consequences of an economy that destroys the very foundations—ecological, economic, and cultural—upon which it is built. But his core focus is on what could follow its inevitable demise: his compelling, grounded vision for a cohesive society that provides a satisfying, culturally-rich context for lives well lived, in an economy not reliant on the impossible promise of eternal economic growth. A society worth living in. Worth fighting for. Worth contributing to.
And since his death, I have edited out a paperback version—Surviving the Future: Culture, Carnival and Capital in the Aftermath of the Market Economy—to concisely present his rare insights and uniquely enjoyable writing style in a more conventional read-it-front-to-back format. Chelsea Green are simultaneously launching both on September 8th, but since I have just received my first copies, I believe some bookshops may have them already…
For more about the man, the books, and the hippo, read on!