by Shaun Chamberlin on January 23rd, 2011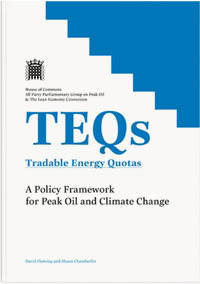 What a week – Tuesday's launch of the All Party Parliamentary Group on Peak Oil's report into TEQs was a tremendous success, with excellent media coverage, including Time magazine, The Sunday Times, Bloomberg News, the BBC, the Financial Times and many others (linked article list). The only problem has been that the degree of interest has been such that I haven't found a moment to write anything here – although I have been Tweeting, I feel as though I'm the last to cover it!
A fuller, more thoughtful piece may follow when time allows, but for now take a look at the videos from the event (Caroline Lucas MP, John Hemming MP, Jeremy Leggett and me), the various blogs that are discussing the implications, and of course the report itself.