"Protest that endures, I think, is moved by a hope far more modest
than that of public success, namely, the hope of preserving qualities
in one's own heart and spirit that would be destroyed by acquiescence."
- Wendell Berry
What is Dark Optimism?
Dark Optimism is, in part, a way of seeing life which is not afraid of seeking the truth - even when that truth is unpalatable or feels overwhelming. By exploring the unknown we can see it for what it is, rather than what we might fear it to be. Where there is darkness present we face it with an indomitable belief in the potential of humankind.

The Dark Optimism name is a vehicle for the work and ideas of Shaun Chamberlin, which epitomise that perspective. It is unincorporated, and works with a wide range of colleagues and collaborators, specialising in uncovering the underlying fundamentals in the areas we study. Since 2007, this has led our work together to date to focus on energy and the environment - those crucial concerns without which all others grind to a halt - and on economics, the arena in which key decisions are made about these concerns.

We are unashamedly positive about what kind of a world humanity could create, and unashamedly realistic about how far we are from creating it today.

Out of this viewpoint comes a firm determination to do what we can to create the world
we believe everyone wants to live in - one which is peaceful and creative, resilient and exciting, and one in which we all have the opportunity to live a fulfilling life.
We believe that
Climate change and fossil fuel depletion (aka 'peak oil') are two aspects of the same problem. Seen together, they represent the inevitable end of our current way of life. The open question is what we replace it with.
Responses to other critical challenges such as biodiversity destruction, water and
food supply disruption, warfare, inequity and economic crisis, to name but a few,
must be informed by understanding of this 'Peak Climate' emergency. Otherwise
these responses will quickly be found to be inappropriate in the rapidly-changing world situation.
Despite its severity and urgency, 'Peak Climate' is just a symptom. It is a product of the cultural stories and ways of thinking we value, respect and take up. This is the level at which change is both necessary and - given the unsustainable nature of our present path - assured.
Partnership and collaboration is critical to all our futures. It is debilitating to feel like we have to 'do it all ourselves', but nor should we want to. We need to recognise humanity's common goals and work together to realise them.
Individual action will be overwhelmed without a wider movement, yet global agreements are useless without individual actions. A key role then is to put the frameworks in place which can take the individual teardrops seemingly lost in an ocean of apathy and combine them into an empowered wave of change.
On a personal level, and as a society, we need to reconnect ourselves with the understanding that we are part of Nature, and let that perspective transform our actions.
Dark Optimism's intellectual independence is essential to our work. As a non-profit-making entity we are happy to work with commercial and governmental interests towards common goals, but we will not compromise our integrity.
Our aims are to
Encourage understanding in our areas of expertise among specialists, policymakers, organisations and the general public through clear writing, public speaking, collaboration, research and consultancy, as well as through the simple demonstration of lives well lived.
Uncover the social, political and spiritual themes underlying perceptions of our global situation.
Identify the ideas and initiatives best suited to creating the world we wish to live in, and support them in whatever ways are appropriate.
Contact us
Email us by clicking here: Dark Optimism

The Dark Optimist is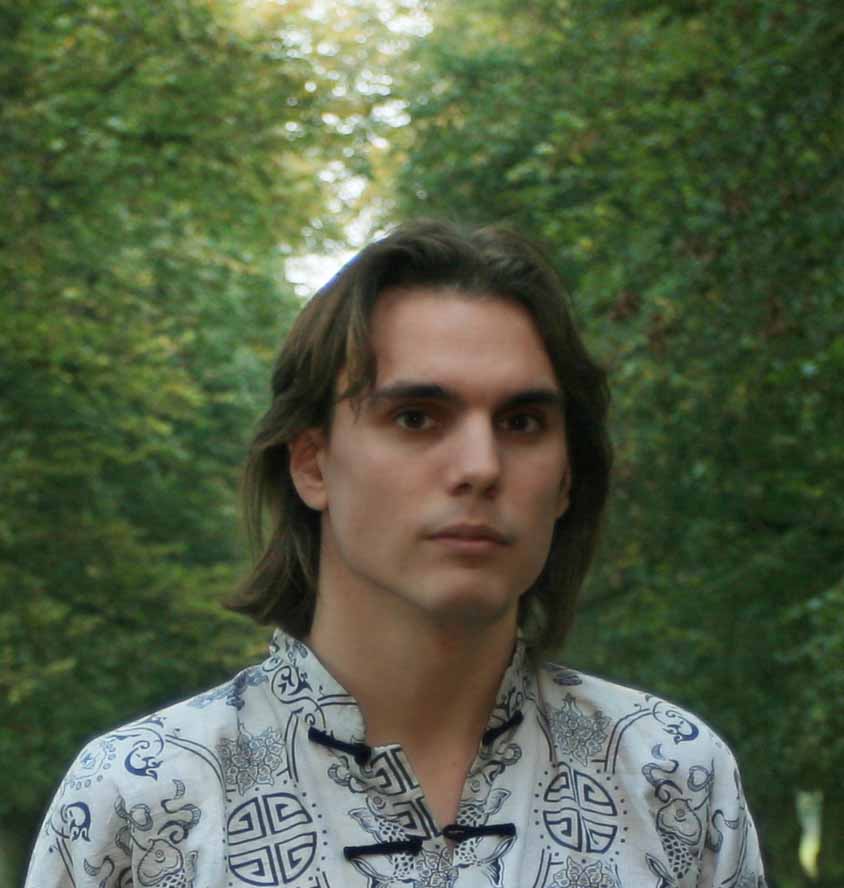 Shaun Chamberlin
"Since 2005 I have devoted myself full-time to exploring the interwoven challenges facing our global community, and how we can enable a joyful and resilient shared future in the face of them. I have been involved with the Transition Network since its inception, leading to me co-founding Transition Town Kingston and authoring the movement's second book, The Transition Timeline.
I have also served as an advisor to the UK Department of Energy and Climate Change and a director of the campaigning organisation World Development Movement, edited booklets on nuclear power and carbon rationing and co-authored the All Party Parliamentary Group on Peak Oil's report into TEQs (Tradable Energy Quotas).
I am chair of the Ecological Land Co-operative and managing director of the Fleming Policy Centre, and have delivered presentations at venues ranging from community groups, Climate Camps and Occupations to the London School of Economics, the UK and Scottish Parliaments and the European Commission. My work has featured on the BBC and been discussed across the UK press, including the Daily Express, Sunday Times and Guardian, as well as internationally by Time magazine, Bloomberg News and the Financial Times. I have also been shortlisted for the Sheila McKechnie Foundation Environmental Campaigner Award and, locally, named Kingston's 'Green Champion' by the council and the Kingston Guardian newspaper.
My writing focuses on social, political and spiritual themes, as well as popular explanations of climate and energy issues, and has found homes from online think tank The Oil Drum and magazines such as The Ecologist and Resurgence to academic journals like Solutions and Carbon Management.
I have also contributed chapters to or edited a diverse range of books, from What We Are Fighting For (Pluto Press) and The Future We Deserve (PediaPress) to The Moneyless Manifesto (Permanent Publications), Grow Small, Think Beautiful (Floris Books), Low Impact Living Communities (Diggers & Dreamers) and two of the Dark Mountain books.
Before 2005, I read Philosophy at the University of York before working, at various times, as a teacher, a massage therapist and the manager of a learning centre for marginalised groups."
- Shaun is on Twitter at @DarkOptimism.
- to email Shaun click here.
Transition Town Kingston Unleashing video