by Shaun Chamberlin on December 21st, 2011
"Untitled, 2010" was written by artist Maria Elvorith for The Future We Deserve, a book project about collaboratively creating the future we deserve, set for publication in January 2012.
—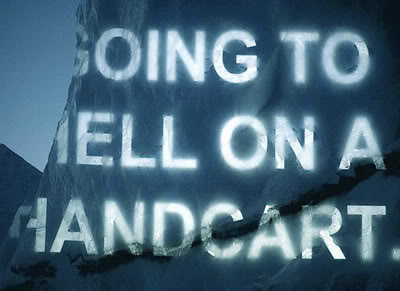 David Buckland, text Amy Balkin, 'Going to hell on a handcart.', Ice Art
"The war that matters is the war against the imagination, all other wars are subsumed in it." ~ Diane Di Prima
With each day we move towards a necessary revolution. Resource depletion, mass species extinction and the risk of runaway climate change highlight the great flaws in our current worldview and the society it has built. It is in this nebulous inner realm of intuition and story that a revolution quietly gathers strength.