by Shaun Chamberlin on December 7th, 2016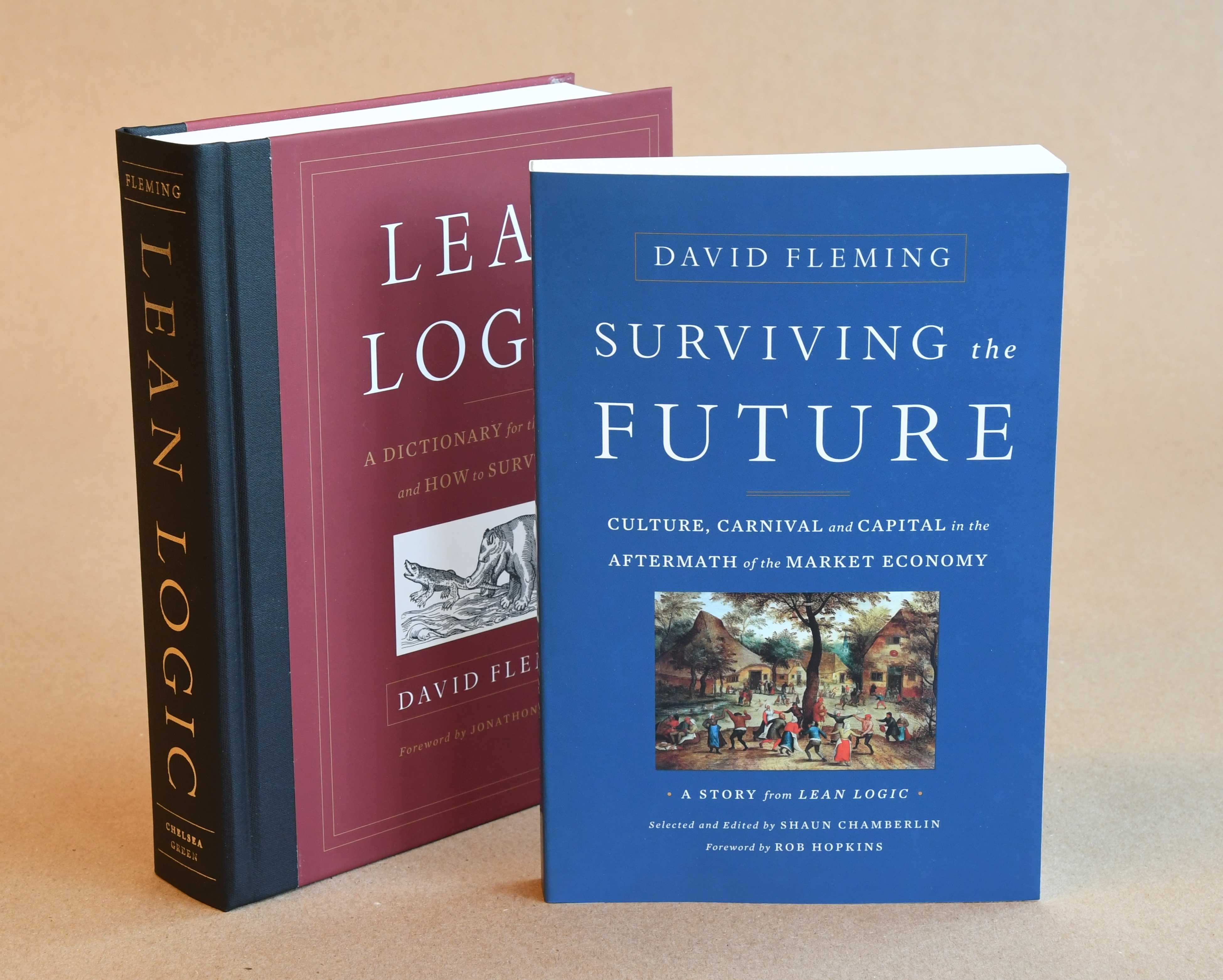 After all the hard work, my late mentor's astonishing books are now available.
There's nothing I'm prouder to have been involved with, but several readers, understandably keen to avoid Amazon, mentioned that it wasn't easy to find the books elsewhere online. So I've created a new, straightforward page with all you need.
Just look under "Order the books" at this link
(for books or e-books, delivered anywhere in the world)
---
Book tour
for Lean Logic and Surviving the Future
Forthcoming events:
21st-22nd Oct 2017 – Localize It: What Resilience Looks Like – author and activist Chuck Collins will discuss the impact David Fleming's Surviving the Future has had on him, as part of this exciting event. South Royalton, Vermont, USA.
27th-29th Oct 2017 – The Economics of Happiness conference – author Richard Heinberg will discuss the importance of David Fleming's Surviving the Future. Port Townsend, Washington, USA.
Weds 29th Nov 2017 – 9pm (UK time) – Shaun and Helena Norberg-Hodge will host a free webinar on Surviving the Future and David Fleming's legacy, in partnership with Transition US. Details to follow. The late UK time is because this webinar is primarily a followup for the US audiences who first engaged with Fleming's work at various conferences over recent months. All welcome from anywhere in the world!
Thurs 30th Nov 2017 – 6:30-9:30pm – To mark the seventh anniversary of David Fleming's death, Shaun will host an evening with The Gaia Foundation at the beautiful Burgh House, honouring their late friend and fellow Hampstead resident. London, UK. Capacity limited. Full details and tickets available here.
Fri 1st Dec 2017 – Sterling College will host an evening dedicated to David Fleming, with five influential devotees of his work – Peter Buffett, Chuck Collins, David Bollier, Margo Baldwin and Matthew Derr. Craftsbury Common, Vermont, USA. Full details available here.
—

Past events:
Fri 2nd – Sun 4th Sept 2016 – Dark Mountain Basecamp festival, Embercombe, Devon: