by Shaun Chamberlin on December 7th, 2016
For more on my late mentor David Fleming's astonishing Surviving the Future or Lean Logic, see the official page for the books, which should provide all you need.
The "Order the books" section there will point you to the best deals available (in print, as e-books, or as an audiobook with my narration!), with free worldwide delivery.
---
Forthcoming public events:
Sat 18th April 2020 – 'Deep Change: Cultivating a Truly Regenerative Activism',
with Shaun and Guhyapati of EcoDharma. Shoreditch, London, UK.
Organised by Advaya. Further details to follow when available.
Click links for more details or to book places at events.
Or follow DarkOptimism on Twitter for more.
I look forward to seeing you soon!
---
Past events (2016-present):
Fri 2nd – Sun 4th Sept 2016 – Dark Mountain Basecamp festival, Embercombe, Devon:

Sat 10th Sept 2016 – Small Is Beautiful festival, with Natalie Bennett, Andrew Simms and others. Centre for Alternative Technology, Powys, mid-Wales
Sat 17th Sept 2016 – 9am-5pm – Towards a Localised Future: A New Economy Convergence, with Helena Norberg-Hodge, Molly Scott Cato, Rupert Read, Michael H Shuman… Friends House, Camden, London:

Mon 19th Sept 2016 – 11:30am-1:30pm – "Could Brexit lead to the rediscovery of culture grounded in place?", celebration of the books with Jonathon Porritt. Trinity College, Oxford University:

Weds 21st Sept 2016 – 6:30pm-8:30pm – The launch party at Daunt Books Chelsea, London
Mon 26th Sept 2016 – 7pm-9pm – Studio guest of Dave Hampton on MarlowFM, 97.5's weekly environment show:
listen here
Weds 12th Oct 2016 – 8pm-10pm – Schumacher College Earth Talk on David Fleming, with Rob Hopkins. Dartington, Totnes:

Thurs 20th Oct 2016 – 7pm-8:30pm – "We, Not Me: Community and Unity", a celebration of World Values Day. Global Co-operation House, Willesden, London
Sun 20th Nov 2016 – Permaculture Podcast interview with Scott Mann: "Lean Logic: The Work of David Fleming"
Tues 6th Dec 2016 – Legalise Freedom interview with Greg Moffitt, "Surviving the Future" (also distributed through the global 'Radio Ecoshock' network of 91 radio stations):

Sat 10th Dec 2016 – Permaculture Podcast interview with Scott Mann: "Surviving the Future with Shaun Chamberlin"
Sat 7th Jan 2017 – Peak Prosperity interview with Chris Martenson, "Surviving the Aftermath of the Market Economy":

Mon 6th-Fri 10th Feb 2017 – Week-long course on David's work at Schumacher College – Community, Place and Play: A Post-Market Economics, with Mark Boyle, Rob Hopkins and Stephan Harding:

Thurs 4th May 2017 – 2pm-4pm (UK time) – FEASTA webinar on David Fleming's work:

Weds 10th May 2017 – 7pm – 'Surviving The Future: Culture, Carnival and Capital in the Aftermath of the Market Economy', at Housmans radical bookshop. 5 Caledonian Road, King's Cross, London, N1 9DX
Tues 18th July 2017 – Greening the Apocalypse interview: "The Future, and How to Survive It" on Melbourne, Australia's RRR FM: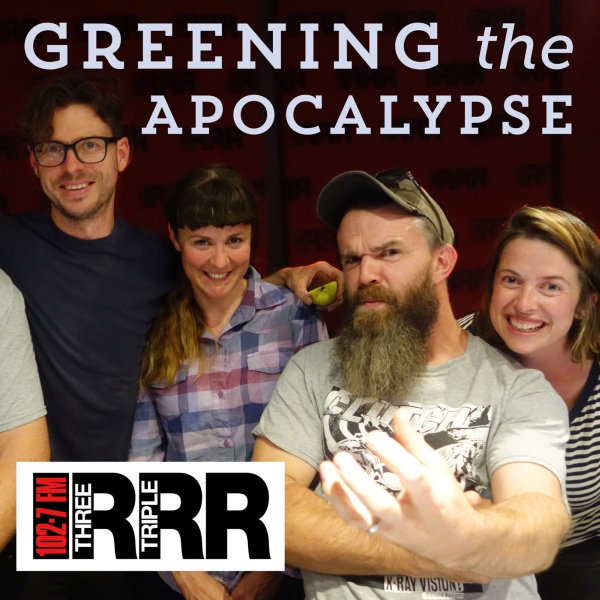 Sun 30th July 2017 – Workshop hosted by video link at the first Transition US national gathering, discussing "Transition's wider vision: David Fleming and Surviving the Future":

21st-22nd Oct 2017 – Localize It: What Resilience Looks Like – author and activist Chuck Collins discussed the impact David Fleming's Surviving the Future has had on him, as part of this exciting event. South Royalton, Vermont, USA.
27th-29th Oct 2017 – The Economics of Happiness conference – author Richard Heinberg discussed the importance of David Fleming's Surviving the Future. Port Townsend, Washington, USA.
Sat 11th Nov 2017 – Spiritual Ecology confluence – All attendees received a complimentary copy of David Fleming's Surviving the Future. Andreas Weber spoke briefly to the value of this gift. St. Ethelburga's, London, UK.
Weds 29th Nov 2017 – Surviving the Future webinar – Shaun and Helena Norberg-Hodge hosted a buzzing webinar on Surviving the Future and David Fleming's legacy, in partnership with Transition US. Over 100 people took part, from four continents:

Thurs 30th Nov 2017 – Fleming anniversary event, Gaia Foundation – To mark the seventh anniversary of David Fleming's death, Shaun hosted a special evening with The Gaia Foundation at the beautiful Burgh House, honouring their late friend and fellow Hampstead resident. London, UK.
Fri 1st/Sat 2nd Dec 2017 – Sterling College symposium – Sterling College hosted a weekend symposium dedicated to David Fleming, featuring presentations from five influential devotees of his work: Peter Buffett, Chuck Collins, David Bollier, Margo Baldwin and Matthew Derr. The event was standing room only, with over 150 people in attendance to engage with Fleming's legacy. Craftsbury Common, Vermont, USA.
Weds 7th Feb 2018 – Interview by Randy Powers of Practical Prepping Period, Georgia, USA: "Shaun Chamberlin talks Lean Logic and Surviving the Future", via the Authors on the Air Global Radio Network:
Fri 6th Apr 2018 – Interview by Jean Vidler MBE of The Green Futures Show, Kingston, UK: "Shaun Chamberlin on David Fleming", via the Authors on the Air Global Radio Network:
17-19th May 2018 – Sterling College short course on Surviving the Future. Sterling College hosted a three-day course built around David Fleming's vision, led by Martin Kirk, Richard Heinberg and Matthew Derr.
Weds 19th Sept 2018 – The European Parliament discusses Fleming's TEQs system, as described in Lean Logic: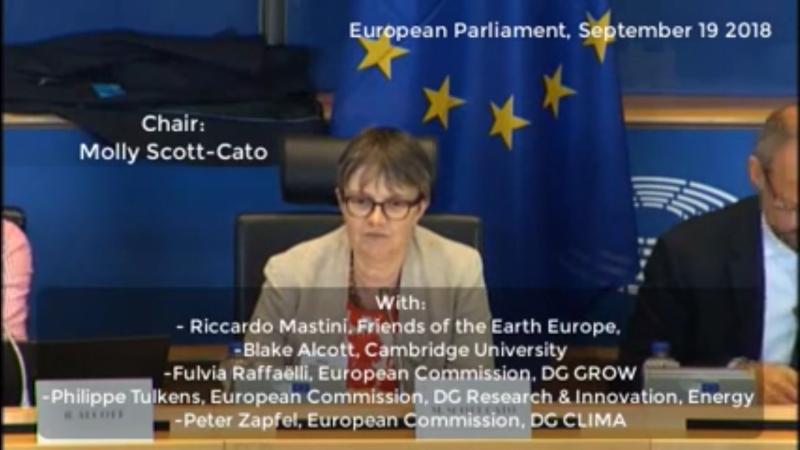 Sat 17th Nov 2018 – Shaun spoke to the rebels on Blackfriars Bridge about his recent arrest with Extinction Rebellion, and his dark optimism for the future.
Tues 19th Feb 2019 – Inspired by the release of the Surviving the Future audiobook, Peter Buffett and Jimmy Buff have been hosting a weekly show on Radio Kingston NY, playing/discussing the chapters. Click the image below to catch up from the first episode, or hear the final episode, featuring an interview with Shaun Chamberlin, here.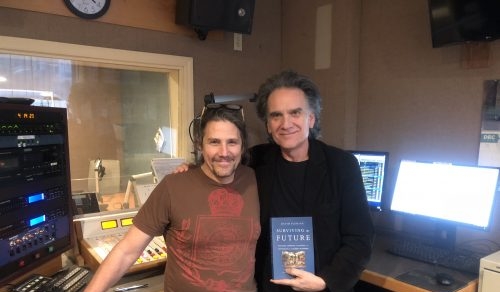 Weds 17th Apr 2019 – Shaun spoke as one of the rebels in Parliament Square, addressing many of the popular criticisms of Extinction Rebellion (at least until the talk was rudely interrupted by 200 police officers!)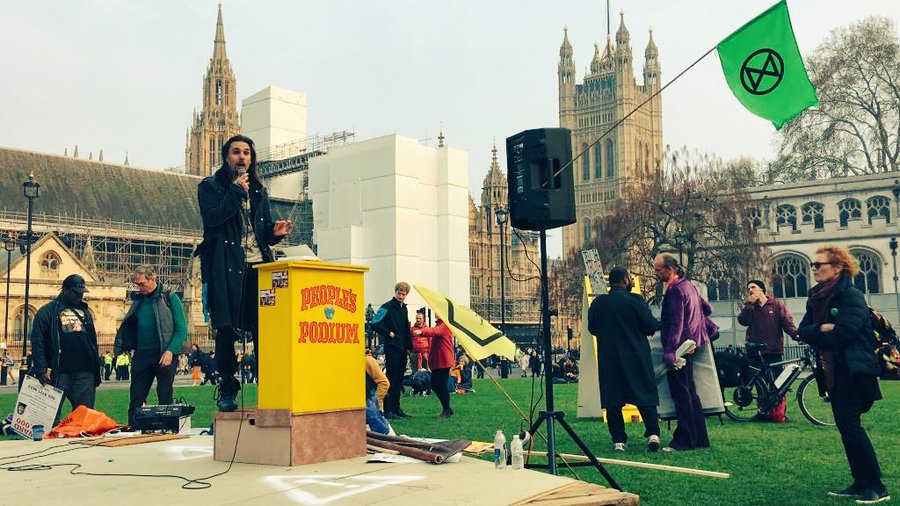 Sat 13th July 2019 – 5:30pm-7:30pm – Screening of The Sequel: What Will Follow Our Troubled Civilisation?, with introduction and Q&A from Shaun.
Kingston Quaker Centre, Fairfield East, Kingston upon Thames, KT1 2PT, UK.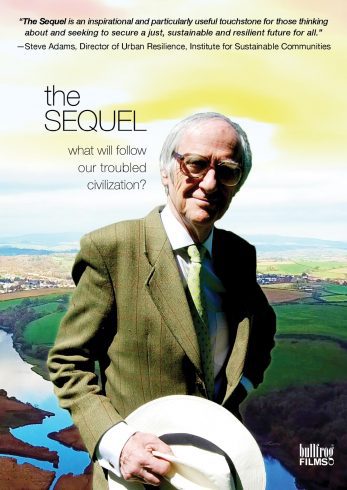 Sun 14th July 2019 – Shaun spoke to the Extinction rebels during the East London Uprising, on the inevitability of impending radical change, for better or worse, and the possibility that remains to tell a beautiful story with our time on this planet.
Sat 20th July 2019 – Shaun spoke on 'Dark Optimism – The Post-Growth Future I'm Rebelling For' in the morning, and then screened The Sequel: What Will Follow Our Troubled Civilisation? in the evening, alongside the film's director Peter Armstrong.
Both events at the Seed festival, Hawkwood, Stroud, UK:
Fri 14th August 2019 – A beautifully warm 'Post-Doom' conversation with bestselling theologian Michael Dowd:

Sat 7th Sept 2019 – Shaun spoke at the end of the opening ceremony for Extinction Rebellion's North London Uprising. Downhills Park, N15 3NX.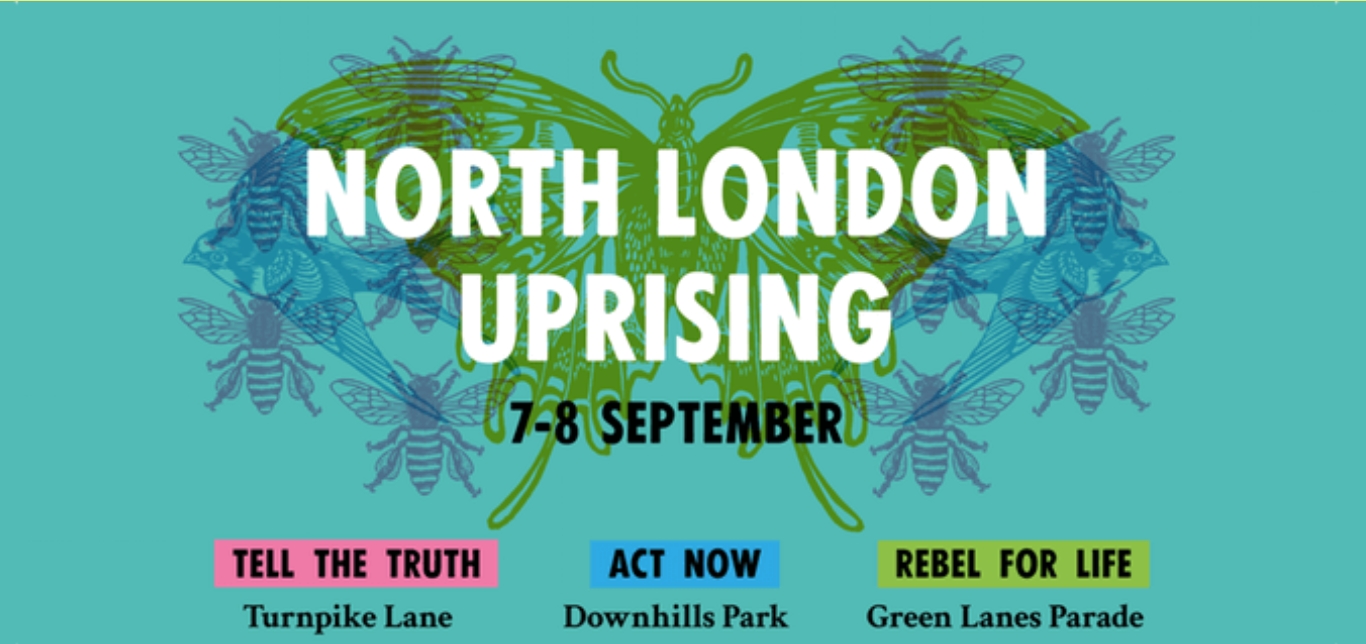 Fri 20th Sept 2019 – The Global Peace Film Festival screened their official selection The Sequel: What Will Follow Our Troubled Civilisation?, with remote Q&A by the film's executive producer Shaun. Orlando, Florida, USA.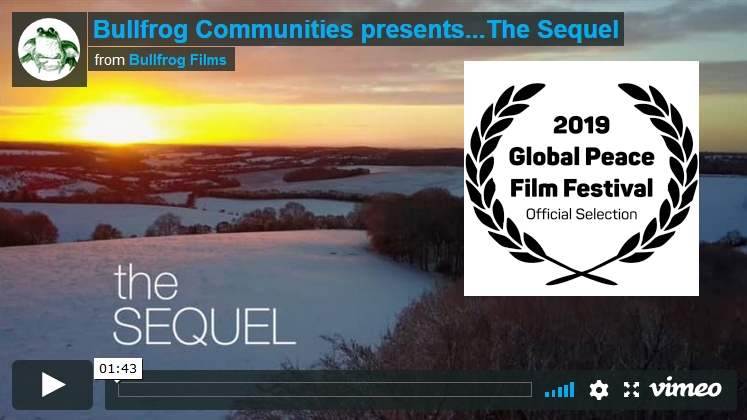 Mon 23rd Sept 2019 – 50th anniversary screening of the newly beautifully restored 1969 classic The Moon & The Sledgehammer. Shaun joined director Philip Trevelyan for the post-screening Q&A, hosted by Extinction Rebellion's Jessica Townsend. Curzon Bloomsbury, The Brunswick, London, WC1N 1AW.
Thurs 10th Oct 2019 – Shaun gave a packed-out talk for his fellow rebels in London, on his own arrest with Extinction Rebellion, and dark optimism for the future. Rebel Sanctuary, Trafalgar Square, Westminster, London.
Leave a comment