"A conventional good read is usually a bad read, a relaxing bath in what we know already. A true good read is surely an act of innovative creation in which we, the readers, become conspirators."
– Augustine Birrell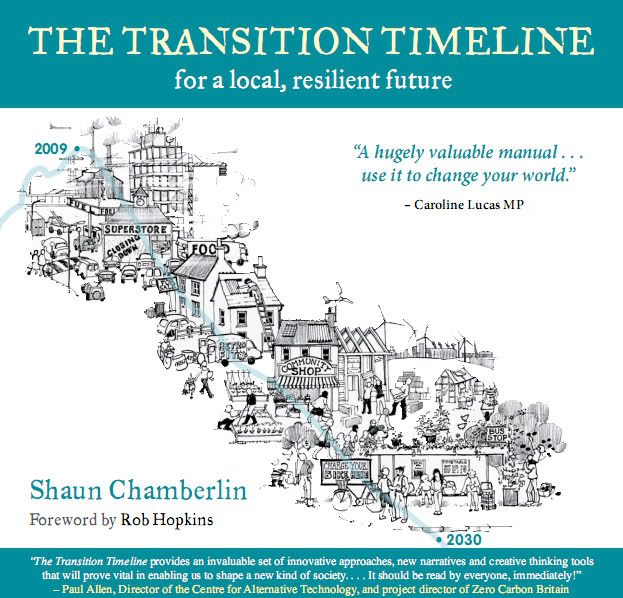 The second book from the rapidly growing Transition Towns movement:
The Transition Timeline, for a local resilient future
192 pages, 234 x 234mm
Published in 2009 by Green Books
Back cover blurb
An exploration of the history of the next twenty years, The Transition Timeline lightens the fear of our uncertain future, providing a map of what we are facing and the different pathways available to us. It describes four possible scenarios for the UK and world over the next twenty years, ranging from Denial, in which we reap the consequences of failing to acknowledge and respond to our environmental challenges, to the Transition Vision, in which we shift our cultural assumptions to fit our circumstances and move into a more fulfilling, lower-energy world.
The practical, realistic details of this Transition Vision are examined in depth, covering key areas such as food, energy, demographics, transport and healthcare, and they provide a sense of context for communities working towards a thriving future. The book also provides a detailed and accessible update on climate change and peak oil and the interactions between them, including their impacts in the UK, present and future.
Use it. Choose your path, and then make that future real with your actions, individually and with your community. As Rob Hopkins outlines in the chapter he has contributed, there is a rapidly spreading movement addressing these challenges, and it needs you.
---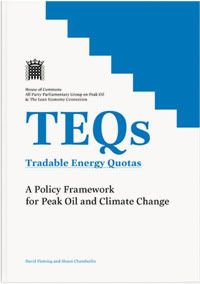 The All Party Parliamentary Group on Peak Oil
Tradable Energy Quotas: A Policy Framework for Peak Oil and Climate Change
by David Fleming and Shaun Chamberlin
View as a free pdf (also available in Italian or Spanish) or order a hard copy below
56 pages, 240 x 170mm
Published in 2011 by The Fleming Policy Centre
---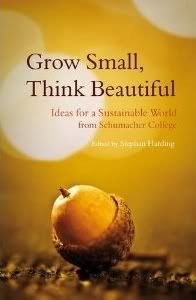 Grow Small, Think Beautiful: Ideas for a Sustainable World from Schumacher College
Edited by Dr. Stephan Harding
Authors: Shaun Chamberlin, James Lovelock, Fritjof Capra, Helena Norberg-Hodge, Rupert
Sheldrake, Satish Kumar, Colin Tudge, Jules Cashford, Peter Reason, Craig Holdredge...
280 pages, 234 x 156mm
Published in 2011 by Floris Books
Back cover blurb
Schumacher College, based near Totnes in Devon, England, opened its doors in the early 1990s and is now an internationally-renowned centre for transformative learning on all aspects of sustainable living.
James Lovelock led the first course on Gaia theory. A host of visionary thinkers has followed, including mathematician and biologist Brian Goodwin, who died in 2009. This book is a realisation of his vision for Schumacher College to publish a collection of essays on sustainable solutions to the current global crisis. Themes include the importance of education, science, Transition thinking, economics, energy sources, business and design, in the context of philosophy, spirituality and mythology.
This book is essential reading for anyone concerned about the future of our society and the environment.
Reviews
"Grow Small, Think Beautiful is a poignant read which leaves one with a lingering sense of hope ... we are gently guided to share [the authors'] sense of awe at the omnipresent natural harmony evident at the heart of the world's eco-systems ... The cumulative effect of this collection of heartfelt essays is that the reader is motivated actively to involve himself as part of the solution, not only mentally and physically but ultimately spiritually."
~ The Temenos Academy Review.
---
"All [the authors] are considered among the most innovative thinkers in their respective fields of enquiry ... [and] surprised me, in their ability to fit such profound thoughts in so few pages, and to inspire me and spark off new and fresh ideas.
I loved reading this book, and it is one that I will certainly be returning to further ... This book is absolutely jam packed with ideas and solutions, covering education, the environment, systems thinking and complexity, design, visioning and story-telling, transition and Transition Towns, agriculture, economics, business organisation, and deep ecology."
~ Simon Robinson, editor of the Transition Consciousness blog, and co-author of Holonomics: Business Where People and Planet Matter.
---
What We Are Fighting For: A Radical Collective Manifesto
Edited by Federico Campagna and Emanuele Campiglio
Authors: Shaun Chamberlin, David Graeber, John Holloway, Owen Jones, Ann Pettifor, Hilary
Wainwright, Alberto Toscano, Nina Power, Mark Fisher, Franco Berardi Bifo, Marina Sitrin...
224 pages, 198 x 129mm
Published in 2012 by Pluto Press
Shortlisted for the Alliance of Radical Booksellers' Bread and Roses Award 2013.
Back cover blurb
The age of austerity has brought a new generation of protesters on to the streets across the world. As the economic crisis meets the environmental crisis, millions fear what the future will bring but also dare to dream of a different society.
What We Are Fighting For tries to answer the question that the mainstream media loves to ask the protesters. The first radical, collective manifesto of the new decade, it brings together some of the key theorists and activists from the new networked and creative social movements.
Chapters outline the alternative vision that animates the new global movement – from 'new economics' and 'new governance' to 'new public' and 'new social imagination'. The book concludes by exploring 'new tactics of struggle'.
Reviews
"This collection provides a rallying point for all those who resist the dogmas of contemporary politics and seek a fresh set of alternatives. What We Are Fighting For is a manifesto full of urgent, articulate responses to the current situation."
~ Simon Critchley, Hans Jonas Professor of Philosophy at the New School, New York, and author of The Faith of the Faithless.
---
"Here are the first flowers of spring: the beginning of an epochal dialogue about the human future. Inspired by the Occupy movements across the world, What We Are Fighting For should inspire all of us to join the conversation."
~ Mike Davis, author of Planet of Slums and City of Quartz
---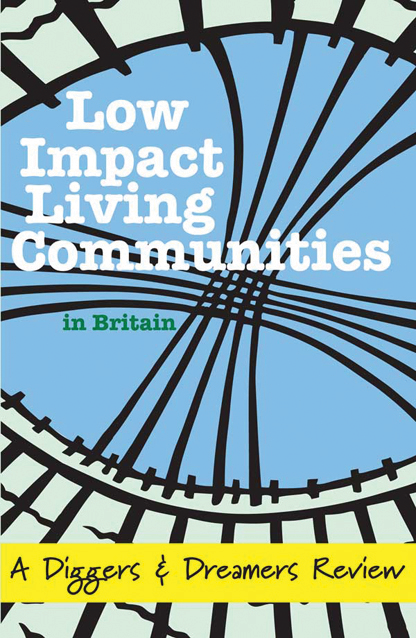 Low Impact Living Communities, in Britain
Edited by Sarah Bunker, Chris Coates, James Dennis and Jonathan How
Authors: Shaun Chamberlin, Simon Fairlie, Dave Darby, Chris Coates, Liz Lainé, Paul Wimbush,
Tony Wrench, Jenny Pickerill, Dennis Hardy, Charlotte Oliver...
152 pages, 216 x 140mm
Published in 2014 by Diggers & Dreamers Publications
Back cover blurb
Human impact on the Earth has to be reduced but how far are you prepared to go? Could you live a really low impact lifestyle? Would it be easier if you were within some type of low impact living community?
In this book you can read about the ground-breaking inventiveness and ingenuity of such groups. There are lessons here for everybody who wants to carry on enjoying life on this lovely planet.
---
Surviving the Future: Culture, Carnival and Capital in the Aftermath of the Market Economy
Selected and edited by Shaun Chamberlin
Foreword by Rob Hopkins
288 page paperback, 6 x 9 inches
Published in 2016 by Chelsea Green Publishing
Back cover blurb
Surviving the Future is a story drawn from the fertile ground of the late David Fleming's extraordinary Lean Logic: A Dictionary for the Future and How to Survive It. That hardback consists of four hundred and four interlinked dictionary entries, inviting readers to choose their own path through its radical vision.
Recognizing that Lean Logic's sheer size and unusual structure can be daunting, Fleming's long-time collaborator Shaun Chamberlin has selected and edited one of these potential narratives to create Surviving the Future. The content, rare insights, and uniquely enjoyably writing style remain Fleming's, but are presented here at a more accessible paperback-length and in conventional read-it-front-to-back format.
The subtitle — Culture, Carnival and Capital in the Aftermath of the Market Economy — hints at Fleming's vision. He believed that the market economy will not survive its inherent flaws beyond the early decades of this century, and that its failure will bring great challenges, but he did not dwell on this: "We know what we need to do. We need to build the sequel, to draw on inspiration which has lain dormant, like the seed beneath the snow."
Surviving the Future lays out a compelling and powerfully different new economics for a post-growth world. One that relies not on taut competitiveness and eternally increasing productivity — "putting the grim into reality" — but on the play, humor, conversation, and reciprocal obligations of a rich culture. Building on a remarkable breadth of intellectual and cultural heritage — from Keynes to Kumar, Homer to Huxley, Mumford to MacIntyre, Scruton to Shiva, Shakespeare to Schumacher — Fleming describes a world in which, as he says, "there will be time for music."
This is the world that many of us want to live in, yet we are told it is idealistic and unrealistic. With an evident mastery of both economic theory and historical precedent, Fleming shows that it is not only desirable, but actually the only system with a realistic claim to longevity. With friendliness, humor, and charm, Surviving the Future plucks this vision out of our daydreams and shows us how to make it real.
Reviews For Lean Logic
"I have never encountered a book that is so hard to characterise yet so hard, despite its weight, to put down ... Lean Logic does not sugar-coat the challenges we face: an economy that destroys the very foundations upon which it depends; climate weirdness; ecological systems under stress; shocks to community and culture. Neither does the book suggest that there are easy solutions to these dilemmas ... Lean Logic is neither a policy manifesto nor a dry technical guide. It's an incredibly nourishing cultural and scientific treasure trove. Its pages span ethics, science, culture, art, and history. The book's greatest strength, for this mesmerized reader, is the lightness with which it draws on knowledge from earlier periods of history, and from other cultures."
~ John Thackara, founder/director of Doors of Perception and author of twelve books, including In The Bubble: Designing In A Complex World and How To Thrive in the Next Economy (full review available here).
---
"Our current public discourse on such problems as resource depletion and global warming is hopelessly muddied; this book brings light and transparency. Fleming doesn't tell us what to think, but rather how to avoid cognitive fallacies that masquerade as reason. Lean Logic should be essential reading for environmentalists, policy makers, and anyone who wants greater clarity in understanding the most important issues of the day."
~ Richard Heinberg, Senior Fellow of The Post Carbon Institute, and author of twelve books, including The Party's Over: Oil, War & the Fate of Industrial Societies and Afterburn: Society Beyond Fossil Fuels
---
Other books
Shaun has contributed to a number of other books.
He was the editor of the second and third editions of Dr. David Fleming's seminal Energy and the Common Purpose (2005-7), leading to his editing the carbon rationing section of Climate Code Red (2008). His obituary for Dr. Fleming was then included as one of the chapters of Dr. Colin Campbell's Peak Oil Personalities (2011), and he contributed energy/climate expertise to the second edition (2011) of Patrick Whitefield's The Earth Care Manual.
He edited Mark Boyle's The Moneyless Manifesto (2012) and wrote the foreword to The Future We Deserve (2012), as well as contributing one of the 100 short essays that make up the latter book. More recently he selected and edited extracts from Fleming's great work Lean Logic for the fourth and fifth Dark Mountain books (2013/2014), while editing the full manuscript ahead of its posthumous publication (2016).