by Shaun Chamberlin on December 7th, 2016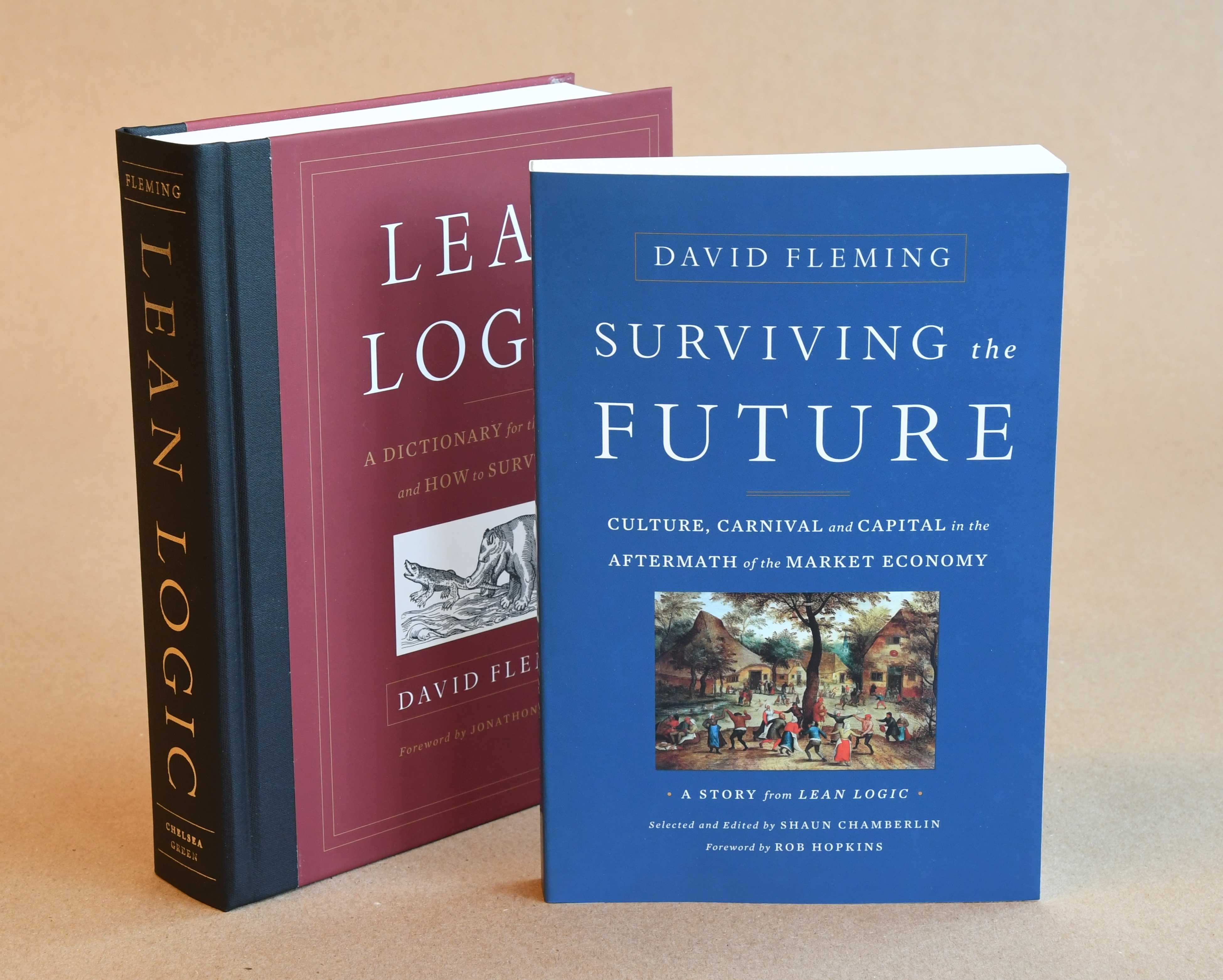 After all the hard work, my late mentor's astonishing books are now available.
There's nothing I'm prouder to have been involved with, but several readers, understandably keen to avoid Amazon, mentioned that it wasn't easy to find the books elsewhere online. So I've created a new, straightforward page with all you need.
Just look under "Order the books" at this link
(for books or e-books, delivered anywhere in the world)
---
Book tour
for Lean Logic and Surviving the Future
Forthcoming events:
Sun 30th July – Appearing by video link at the first Transition US national gathering,
discussing "Transition's wider vision – David Fleming and Surviving the Future"
—

Past events:
Fri 2nd – Sun 4th Sept 2016 – Dark Mountain Basecamp festival, Embercombe, Devon:

Sat 10th Sept – Small Is Beautiful festival, with Natalie Bennett, Andrew Simms and others. Centre for Alternative Technology, Powys, mid-Wales
Sat 17th Sept – 9am-5pm – Towards a Localised Future: A New Economy Convergence, with Helena Norberg-Hodge, Molly Scott Cato, Rupert Read, Michael H Shuman… Friends House, Camden, London:

Mon 19th Sept – 11:30am-1:30pm – "Could Brexit lead to the rediscovery of culture grounded in place?", celebration of the books with Jonathon Porritt. Trinity College, Oxford University:

Weds 21st Sept – 6:30pm-8:30pm – The launch party at Daunt Books Chelsea, London
Mon 26th Sept – 7pm-9pm – Studio guest of Dave Hampton on MarlowFM, 97.5's weekly environment show:
listen again here
Weds 12th Oct – 8pm-10pm – Schumacher College Earth Talk on David Fleming, with
Rob Hopkins. Dartington, Totnes:

Thurs 20th Oct – 7pm-8:30pm – "We, Not Me: Community and Unity", a celebration of World Values Day. Global Co-operation House, Willesden, London
Sun 20th Nov – Permaculture Podcast interview with Scott Mann: "Lean Logic: The Work of David Fleming"
Tues 6th Dec – Legalise Freedom interview with Greg Moffitt, "Surviving the Future" (also distributed through the global 'Radio Ecoshock' network of 91 radio stations):

Sat 10th Dec – Permaculture Podcast interview with Scott Mann: "Surviving the Future with Shaun Chamberlin"
Sat 7th Jan 2017 – Peak Prosperity interview with Chris Martenson, "Surviving the Aftermath of the Market Economy":

Mon 6th-Fri 10th Feb – Week-long course on David's work at Schumacher College – Community, Place and Play: A Post-Market Economics, with Mark Boyle, Rob Hopkins and Stephan Harding:

Thurs 4th May 2017 – 2pm-4pm (UK time) – FEASTA webinar on David Fleming's work:

Weds 10th May – 7pm – 'Surviving The Future: Culture, Carnival and Capital in the Aftermath of the Market Economy', at Housmans radical bookshop. 5 Caledonian Road, King's Cross, London, N1 9DX
Click links for more details or to book for events.
I look forward to seeing you soon!
No comments yet.
Leave a comment